This post will help you to learn how to check Intune service release version of your tenant. Intune is on a monthly release cadence. Every update contains new features, bug fixes, and, most importantly, new capabilities. By knowing the Intune service release, you can get more information about updates.
Related Post – Intune Version Numbers -Service Release Numbers with Feature Details
Check Microsoft Intune Service Release Version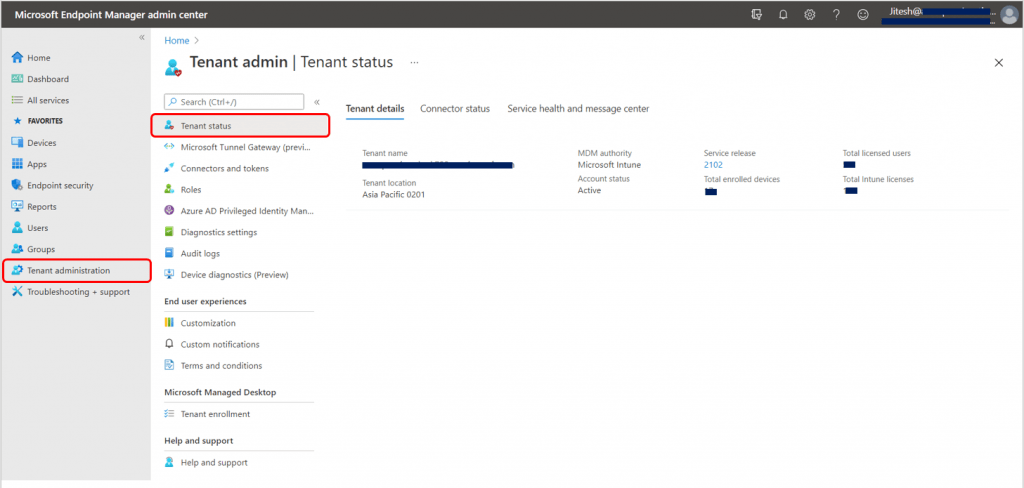 Tenant details provide information about your tenant name and location, your MDM Authority and your tenants service release number. On Tenant details tab you'll also find basic information –
Tenant Name – [email protected]
Tenant Location – Asia Pacific 0201
MDM Authority – Microsoft Intune
Account Status – Active
Service Release – 2102
Total Enrolled Devices – <Total Count of devices>
Total Licensed Users – <Assigned licensed users in Portal>
Total Intune Licenses – <Total available license in Portal>
The service release number is a link that opens the What's new in Intune article on Microsoft docs. Here you can get information about the latest features and updates to the Intune service.
Intune Service Release Version numbers are named based on YYMM format. For example, Here Service release version is 2102!" It means this version is release in February 2021.
Each monthly update may take up to three days to rollout and will be in the following order. Some features may roll out over several weeks and might not be available to all customers in the first week.
Day 1: Asia Pacific (APAC)
Day 2: Europe, Middle East, Africa (EMEA)
Day 3: North America
Day 4+: Intune for Government
Resources