Azure/Intune portal is blocked, Teams web access is blocked, SharePoint has blocked (Azure Portal Teams SharePoint Blocked) with Microsoft Edge chromium because of Windows Information Protection (WIP). Let's see how to fix this issue very quickly.
ISSUE
I have noticed the more and more issues with Microsoft Edge chromium version after full version release which is fully supported by WIP and Azure AD login. Whenever I tried to access the Azure portal or Intune Portal from Intune Managed Azure AD Registered device (BYOD), it was giving me the following error.
I tried to check edge://policy without much help.
Check your organization's policies. Visit edge://policy to see the list of blocked URLs and other policies enforced by your organization.
Portal.Azure.com is blocked. The person who setup this computer has blocked this site. Try contacting your organization admin.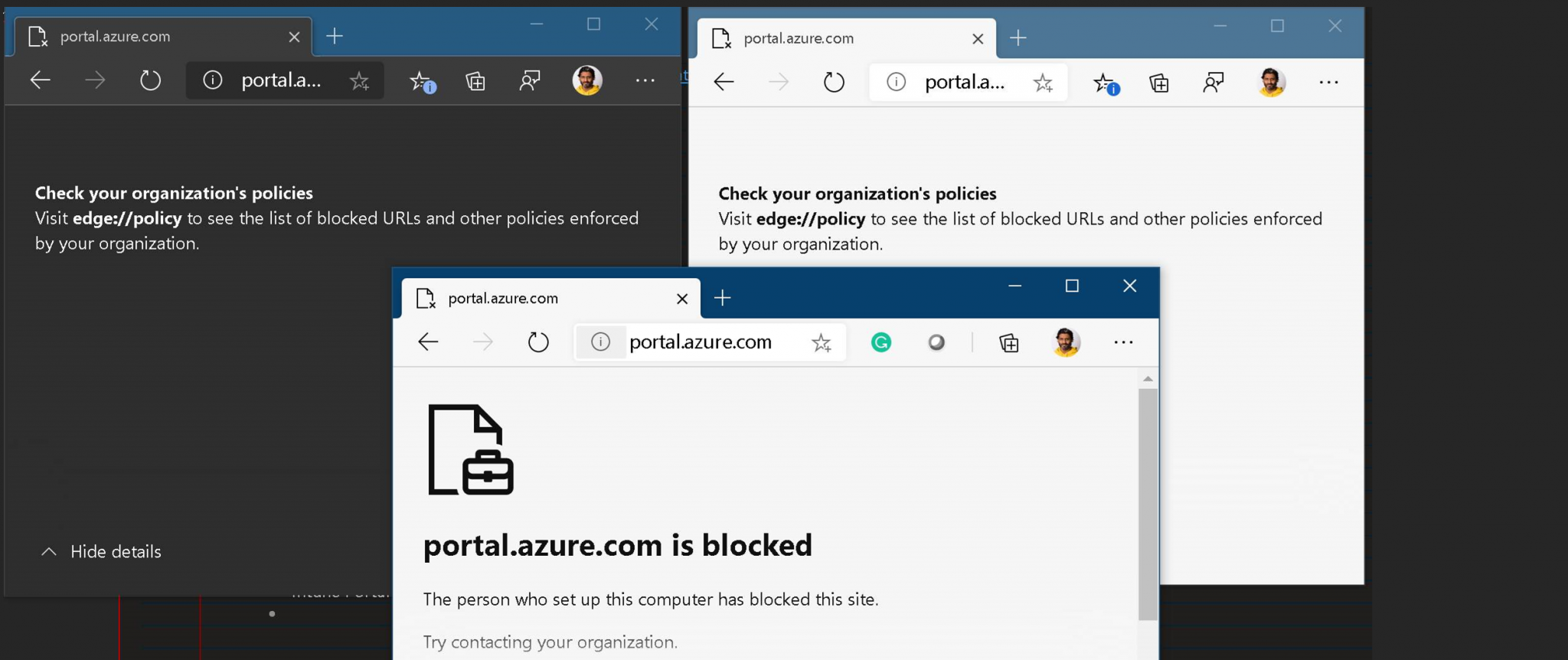 FIX
Again, my super-duper helpful colleague Mark Thomas came to help me. I forgot that Microsoft Edge chromium has multiple profile (personal, corporate) options. And unfortunately, I was using my perform profile with Microsoft Edge chromium.
I got more understanding about Microsoft Edge profiles from the documentation. It seems Microsoft Edge with corporate identity (Azure AD user account) works differently than the personal profile.
| | |
| --- | --- |
| Block | WIP looks for inappropriate data sharing practices and stops the employee from completing the action. This search can include sharing enterprise data to non-enterprise-protected apps in addition to sharing enterprise data between apps or attempting to share outside of your organization's network. |
This was documented in Microsoft docs – here
Yes, Edge thinks that I can access only Azure Portal, Intune Portal, or Teams Portal only when I logged in with my Azure AD profile into Microsoft Edge.
Click on the Profile icon
Click on SIgn-in button
Click on Work or School Account
Click on Continue
I know the following message is a bit scary if this is a personal device same as me
You can remove the checkmark if you want "Allow My Organization to Manage My Device"
Click on YES
Click on THIS APP only (MAM) option from the button (this is the best option if you are BYO scenario)
Sync Your Profile options are here:
You can customize the sync option if you want
Otherwise, you can go with the default Sync option
You can confirm the profile you are logged into Microsoft Edge Chromium by clicking on the profile picture
Results
I can access Azure Portal without any issues as you can see below. It's no more blocked. I didn't change anything from Intune WIP policies.
Resources