Let's learn about the new Windows 11 Keyboard shortcuts introduced to work faster and more efficiently with Windows 11. Keyboard shortcuts are keys or combinations of keys that provide an alternate way to do something you'd typically do with a mouse. A few new Keyboard Shortcuts available on Windows 11 allow quick access to the latest features such as Widgets, Snap layouts, Notification Center, and Quick Settings flyouts.
When you compare it with Windows 10 keyboard shortcuts, most of the shortcuts will work the same as in the latest Windows. Being an IT Pros, many prefer to use keyboard shortcuts, It helps you to perform actions faster using a single press of multiple keys, saving you clicks and time.
New Windows 11 Keyboard Shortcuts
Let's check Windows 11 Keyboard shortcuts to access the latest introduced features –
| Action | Shortcut Keys |
| --- | --- |
| Open the Quick Settings flyout. | Win + A |
| Bring up the Notification Center. | Win + N |
| Open Widgets pane. | Win + W |
| Open the Snap Layouts flyout. | Win + Z |
New Windows 11 Keyboard Shortcuts
Windows key + A keyboard shortcut – Open the Quick Settings flyout.
New Windows 11 Quick Settings Options
Quick Settings is the place for you to manage common PC settings quickly and easily, like Volume, Brightness, Wi-Fi, Bluetooth, and Focus Assist. You will see media playback controls when playing music or videos in Microsoft Edge or streaming music in apps like Spotify. It also helps IT pros make easy changes via quick settings that save a lot of time, rather than navigating through the system settings.

Windows key + N keyboard shortcut – Open the Notification Center flyout
Notification Center is the home for all your notifications in the OS and a full-month calendar view. It is also part of the new Action Center experience, available in the lower right corner of the Taskbar.

Windows key + W keyboard shortcut – Open the Widgets interface
Add or Remove Windows 11 Widgets Button on Taskbar Easy Option
Windows 11 brings you closer to the news and information you care about faster with Widgets – a new personalized feed powered by AI and best-in-class browser performance from Microsoft Edge. Now, you can open a similarly curated view directly from your desktop. When you open your personalized feed, it slides across your screen like a sheet of glass, so it doesn't disrupt what you're doing.
Windows key + Z keyboard shortcut – Open the Snap layouts menu.
Windows 11 Snap Layouts New Feature | Six Layouts to Arrange Applications in Desktop | How to disable or enable Snap Layouts on Windows 11 Multitasking Easiest Option
Snap layouts is a new feature part of Windows 11, introduced to help end-users to provide a better multitasking experience. You can use the snap layout feature is available for all the apps in Windows 11. This provides six layouts to arrange applications on the desktop depending on the display size.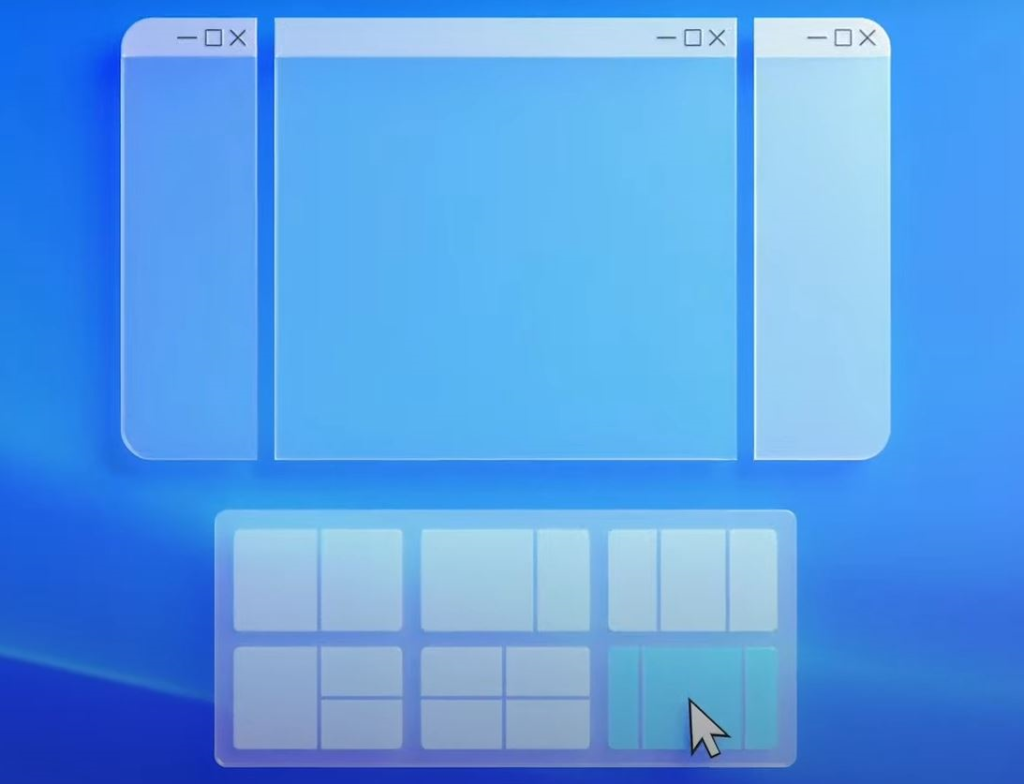 You can find out more details about Windows Key shortcuts options in alphabetical order available in Windows.
Resources