Let's learn how to customize Windows 11 Taskbar Notification Area aka Taskbar Corner Overflow. The taskbar notification area lets you show or hide notification icons for apps.
The notification area is located at the right end of the taskbar. It contains some icons you might find yourself clicking or pressing pretty often. It provides status and notifications about things like incoming emails, updates, and network connectivity. You can change which icons and notifications appear there.
Latest Updated Post – Best Method To Customize Windows 11 Taskbar
By default, Windows 11 shows Windows Security, Microsoft OneDrive system icons in the notification area. You might want to customize which icons should be visible in the taskbar.
Hide or Show Icons in Windows 11 Taskbar Corner Overflow Menu from Settings
The Taskbar corner overflow section lets you hide or show icons that appear in the taskbar corner overflow menu. Here's how –
In Windows 11 device, Click on the Start button, and then select Settings.
On the left side, Click on Personalization, and click on Taskbar on the right side.
Click on Taskbar corner overflow on the right side to expand it. Turn On or Off notification icons for apps in which icons you want to hide or show under the taskbar corner overflow.
Once you have done, Close the Settings app.
Tips 💡 – If you want to add a hidden icon to the notification area, click the Show hidden icons arrow next to the notification area and then drag the icon you want back to the notification area. You can drag as many hidden icons as you want.
Results – End User Experience
If you turned on the taskbar corner overflow icons., the systems icon will show on the taskbar corner and not in the notification area.
If you turned off the taskbar corner overflow icons, The systems icons will show in the taskbar notification area and not on the taskbar corner.
Note – You can rearrange icons that appear in the notification area—just drag an icon to a different spot.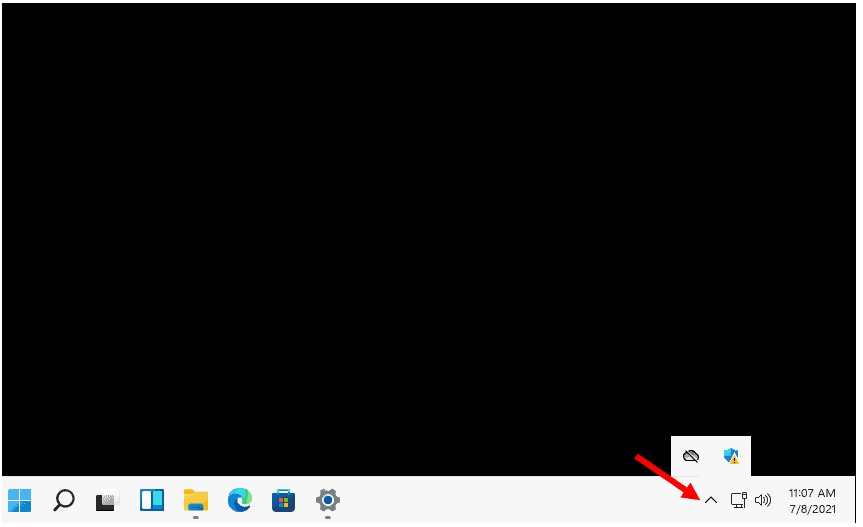 Resources