In this post you will learn how to disable privacy settings experience at sign-in in Windows 10. Starting with Windows 10, version 1809 when you sign in to a new user account for the first time or after an upgrade in some scenarios. The screen below may be presented to the user that prompts to choose how much information you want to share with Microsoft by specifying your privacy settings options for account.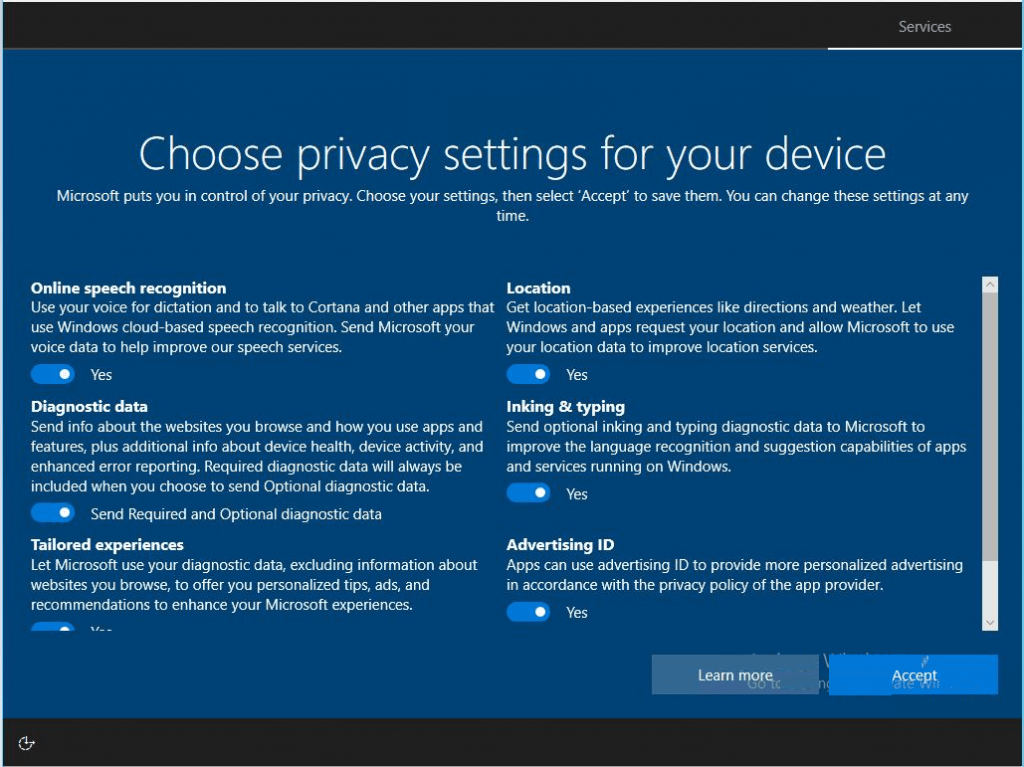 You can disable privacy settings experience for all users in Windows 10 through Group Policy or Registry. Lets get started –
Disable Privacy Settings Experience Using Group Policy
To disable Privacy Settings Experience, you need to follow these following steps.
You must be logged in as an Administrator on the computer.
In Windows 10 device, click Start type gpedit.msc in search to run the Local Group Policy Editor.
Navigate to Computer Configuration > Administrative Templates > Windows Components > OOBE. Double click on the Don't launch privacy settings experience on user logon policy to edit it.
Select Enabled, click Apply and OK.
If this policy is enabled, the privacy experience will not launch for newly-created user accounts or for accounts that would have been prompted to choose their privacy settings after an upgrade.
Close the Local Group Policy Editor. All changes have been saved and will take effect immediately.
Disable Privacy Settings Experience Using Registry
To add or import a registry value follow these steps:
Open Notepad, Copy the registry value below
Windows Registry Editor Version 5.00

[HKEY_CURRENT_USER\Software\Policies\Microsoft\Windows\OOBE]
"DisablePrivacyExperience"=dword:00000001

[HKEY_LOCAL_MACHINE\SOFTWARE\Policies\Microsoft\Windows\OOBE]
"DisablePrivacyExperience"=dword:00000001

It will look like in the following syntax, when you see the file.
In the File menu, Select Save As and click Browse to your preferred folder or location. In the File name box provide the appropriate name "FileName.reg" with .reg extension and Save as type "All". Click Save.
The registry file will appear on your saved location. To start the execution, Double click or Right click and select Merge option on the saved .reg file content to merge into the local registry.
A warning box with the following messages prompted, Click Yes to continue.
Once Information in path of .reg file has been successfully entered into the registry below prompt will be appear. Click OK.
Resources