In this blog post, You are going to see the videos to remove Management point and install it. So basically this process is called re-installation of SCCM Management point role (Reinstall Management Point Role).
Impacts – Reinstall Management Point
You need to make sure that you are aware of all the impacts before you remove the Management point from your SCCM|ConfigMgr infrastructure.
Basically Management points provide policies and content location to clients. If you don't have a Management point your SCCM client is useless or not managed at all.
The above scenario could cause many client management issues as well as bandwidth issues if the clients fall back to remote Management Point.
Before removing the ConfigMgr Management point, you need to make sure that you are NOT going to cause bandwidth or network issues for your businesses.
You can stop all the deployments or you should not deploy any new applications or policies (policies are fine) to those remote office clients to eliminate the network impacts.
NOTE! – You can reduce the impact of re-installation of SCCM MP by making an other management point available in the same remote office or not.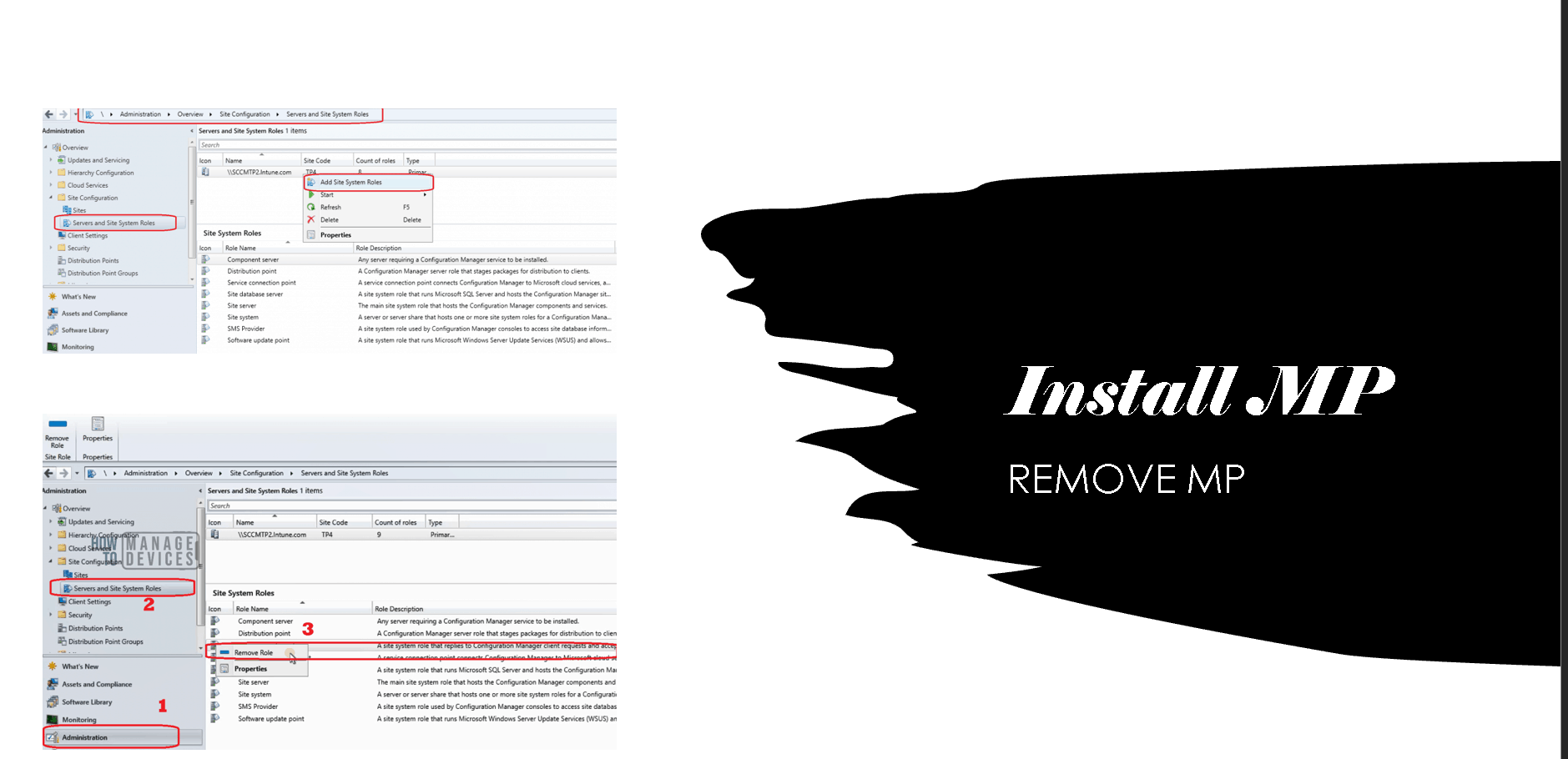 Remove Management Point
Once you are able to confirm you are fine with all these impacts, you can proceed with the following actions.
The removal of management point is straightforward process. You can refer to the video above to get more details on the removal process. You can complete re installation "Reinstall Management Point" process using this guide.
My recommendation would be to validate the removal of management points (MP) from the log files. Also, you can validate all the other components like IIS. This process will help you to have a clean reinstall or removal of management point.
More details – Learn How to Remove Management Point Role|SCCM|ConfigMgr.
Reinstall Management Point
Once you are OK with the removal of Management point, you can give a restart it's not mandatory to restart the server but you can restart the server before installing the Management point again (or re-installing the MP).
Now you can install the management point (Reinstall Management Point) from SCCM console.
How to perform re-installation of MP is explained in the video above. After the installation, from the log files as you can see in the below post you can verify MP is working fine.
More details – Learn How to Install a New Management Point Role|SCCM|ConfigMgr
Resources