SCCM Task Sequence Check Readiness Options Before Windows 10 Upgrade ConfigMgr | Endpoint Manager. Microsoft MEMCM team introduced new read-only variables to the Task Sequence in this version 2001.
Introduction
Let's see more details about Task Sequence Check Readiness with Windows 10 upgrade. Configuration Manager 2001 Task Sequence has out of box checks to confirm the existing device configuration before Windows 10 upgrade.
The readiness check is the built-in options availability in SCCM Task Sequence with Windows 10 upgrade options.
More Details – https://www.anoopcnair.com/configuration-manager-2001-technical-preview/
Task Sequence Check Readiness
The step also now sets read-only variables for whether the check returned true (1) or false (0). If you don't enable a check, the value of the corresponding read-only variable is blank.
_TS_CRMEMORY
_TS_CRSPEED
_TS_CRDISK
_TS_CROSTYPE
_TS_CRARCH
_TS_CRMINOSVER
_TS_CRMAXOSVER
_TS_CRCLIENTMINVER
_TS_CROSLANGUAGE
_TS_CRACPOWER
_TS_CRNETWORK
_TS_CRWIRED
The smsts.log includes the outcome of all checks. If one check fails, the task sequence engine continues to evaluate the other checks. The step doesn't fail until all checks are complete.
If at least one check fails, the step fails, and it returns error code 4316. This error code translates to "The resource required for this operation does not exist."
The following are the new options available in the Task Sequence
Architecture of current OS: 32 Vs 64
Minimum OS version: for example, 10.0.16299
Maximum OS version: for example, 10.0.18356
Minimum client version: for example, 5.00.08913.1005
Language of current OS: select the language name, the step compares the associated language code. This check compares the language that you select to the OSLanguage property of the Win32_OperatingSystem class on the client.
AC power plugged in
Network adapter connected

Network adapter is not wireless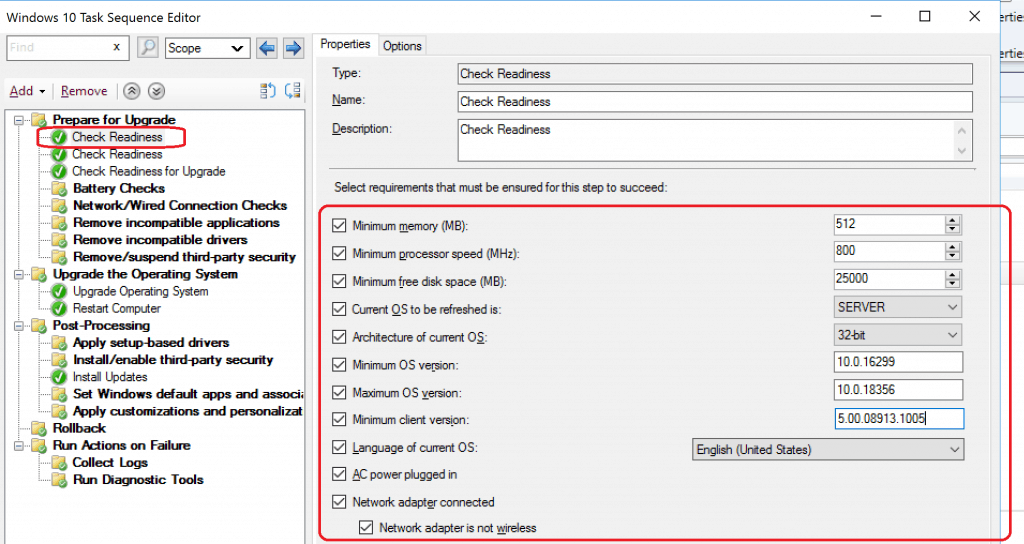 Resources