MECM is the new name of SCCM. In this post, you will see how to upgrade the SCCM infra to 1910 version. Let's see SCCM 1910 Update Step by Step details.
Related Post – What is New in MECM SCCM 1910 Features a Walkthrough
How to Download SCCM 1910?
Don't you see the SCCM 1910 production version in your console? How did I get the SCCM 1910 production version? There is no secret here.
Steps to Follow
You can download the PowerShell Script from Microsoft ( these instructions on how to use the PowerShell script )
Run the Script with the account which has Full Admin access
Make sure you have successfully run the script
Open the SCCM console and click Check updates as you can see in the below screenshot
Check out Microsoft's Announcement about the 1910 release. MECM 1910 Fast Ring (opt-in version) now. This version of MECM is not generally available for all applicable SCCM Infra.
MECM 1910 Applicability Checks
With each version of SCCM, there will be an SQL applicability script that will check whether this particular update 1910 should be made available or not.
I have a blog post about this applicability script and the logic of the SQL script in detail. More details "SCCM Update is Not Visible in Console – Here is the Reason."
Prerequisites of 1910 Version
As I mentioned above, the MECM 1910 production version will be available within the SCCM console after you run the PowerShell command and your SCCM site meet the following conditions:
If your MECM CB version is SCCM 1810 or SCCM 1902, or SCCM 1906 (Read More details about SCCM Life Cycle)
If your MECM CB version has online Service Connection Point
NOTE! – Make sure you have gone through best practice check list before starting the upgrade.
More Details – https://docs.microsoft.com/en-us/configmgr/core/servers/manage/checklist-for-installing-update-1910
Update Download Stuck?
This stuck download issue is a common scenario in enterprise organizations and LAB environments. This issue is mostly because of proxy or some other internet-related issues.
There are a couple of ways to fix this kind of issue if it's not related to proxy and internet. You can refer to the previous blog posts to solve Update Download stuck problems.
More troubleshooting help on SCCM 1910 Download stuck and upgrade issues here and here.
FIX SCCM Updates Stuck in Downloading State & CM Update Reset Tool Fixes SCCM CB Update Download Issue
Microsoft Doc ➡ https://support.microsoft.com/en-us/help/4490424/understand-and-troubleshoot-updates-and-servicing-in-configmgr
Log Files are Your Friend
DMPDownloader.log for SCCM 1910 source file download issues
ConfigMgrSetup.log for Redist Files Download Issue
CMUpdate.log for all the upgrade related activities
SCCM Update Prerequisite Check Stuck?
The SCCM upgrade prerequisite check can take many hours, depending on your hierarchy/infra. When you have CAS and many primary servers, the 1910 update source files will be copied to primary servers.
You can check the status of the prerequisite checks from the monitoring node. More details about SCCM prerequisite checks here.
Microsoft Documentation – https://docs.microsoft.com/en-us/configmgr/core/servers/deploy/install/prerequisite-checker
NOTE! – Make sure you start the prerequisite checks 3-4 days before the production update/upgrade of SCCM infra.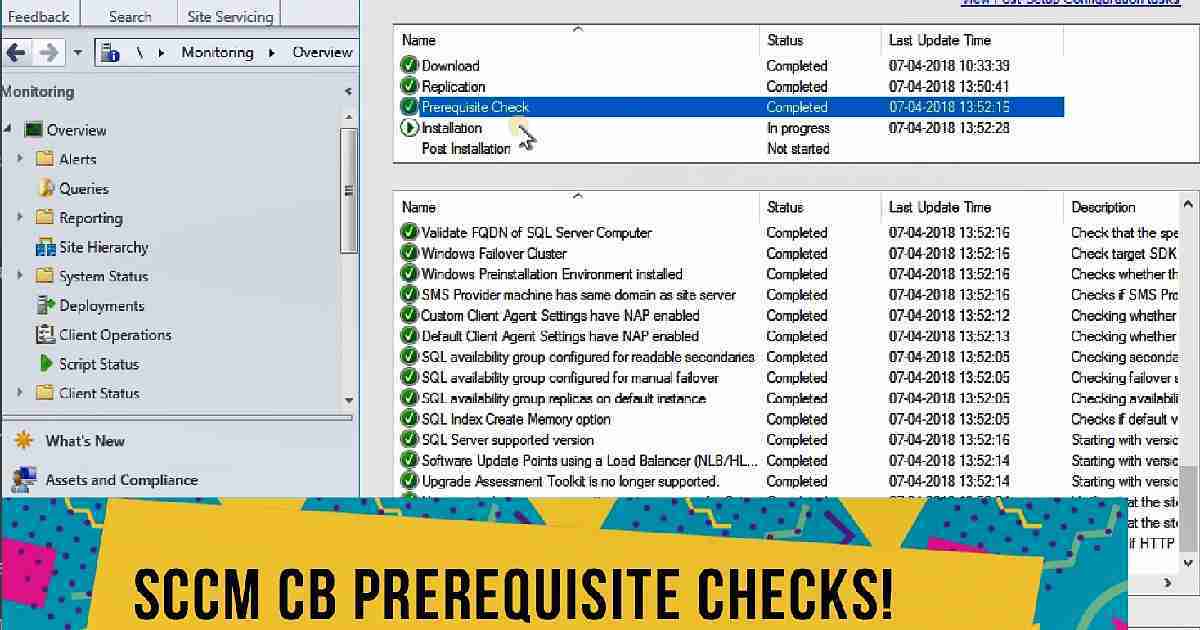 Install Update Pack
Once the prerequisite checks completed successfully, you can start the installation or update of MECM 1910.
Select Configuration Manager 1910 update
Click on Install Update Pack to start the installation wizard
Features Included in Update Pack
Select the features you want to enable after the upgrades
Click on Next to continue
Client Update Settings

Upgrade without validating
Validate in pre production collection

Click NEXT button to continue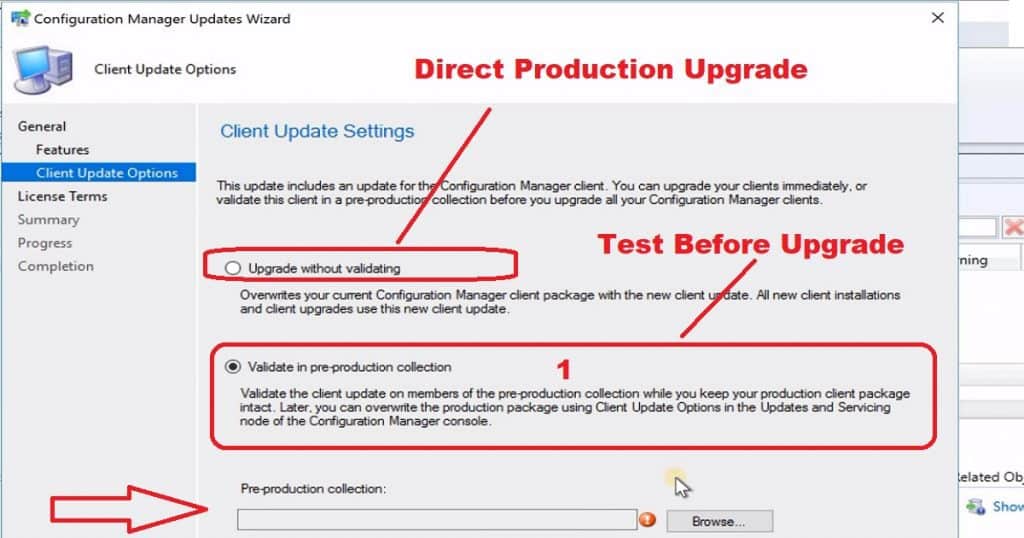 NOTE! – More details about SCCM Client Upgrade options "SCCM Client Upgrade Promote Pre-Production Client to Production."
1910 Update Completed Successfully
The installation or update process might take more than a couple of hours, depending on the size of the database and performance, etc..
Upgrade SCCM Remote Console
The 1910 update process completes the installation of the latest version of the console. The console installation on the site servers (primary and CAS) are straight forward.
More details about the remote console installations/updates are explained in the following post. More information, "Install SCCM Remote Console on a Windows 10 Machine."
Version 1910
Console Version 5.1910.1067.1300
Site Version 5.0.8913.1000
Client and Server Version
Let's check the client and server versions of 1910.
Version 1910
Full Version 5.00.8913.1000
Client Version 5.00.8913.1006
Pre-Released Features
Following are the pre-release features of 1910 version!
Mobile Apps for co-managed devices
Task Sequence Debugger
Application Groups
Server Groups
New Features of 1910
I have explained all the new features in the following blog post. More details "What is New in MECM SCCM 1910 Features a Walkthrough."
Resources – SCCM 1910 Update