Let's look into the details of the SCCM 2309 Infra Upgrade and important things to remember before starting the upgrade in this post. Microsoft released the second version of SCCM in the year 2023.
There are only 2 versions of SCCM releases per year. Recently, Microsoft changed the release timing of the SCCM version to 2 Versions per Year. The release months are March and September. SCCM Technical Preview version cadence will also change from 12 releases to 4 per year.
SCCM 2309 is available as an opt-in version for Oct 2023 month. So, you need to enable the opt-in option using the PowerShell script, as discussed in the Download SCCM 2309 Early Ring Version post.
Starting with the 2309 release of SCCM, it's crucial to have the ODBC driver for SQL Server 18.1.0 or later installed as a prerequisite. More details on the SCCM 2309 infra upgrade are given below.
SCCM 2309 Infra Upgrade Checklist
Before proceeding with the SCCM 2309 infra upgrade process, let's check the following details. Following are some of the mandatory readings before upgrading SCCM infra to 2309.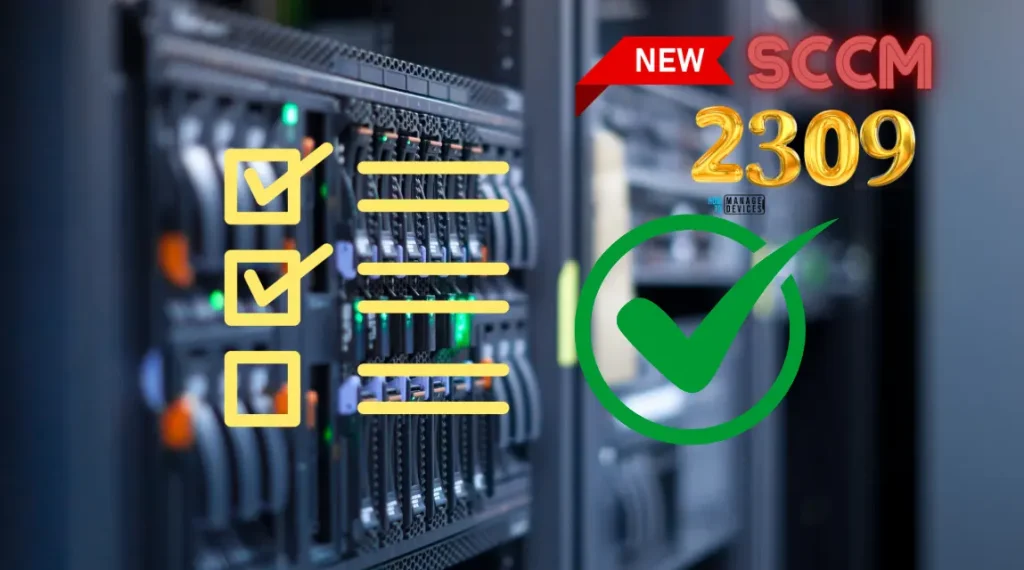 SCCM 2309 – Extended Set of Checklists
These are other SCCM specific checklists that you need to validate and confirm before the SCCM infra upgrade.
All sites run a supported version of Configuration Manager
Review the status of your product licensing
Review Microsoft .NET versions
Review the version of the Windows ADK for Windows 10
Review SQL Server Native Client version
Review file and data replication between sites

Database replication
File-based replication

Install all applicable critical Windows updates
Disable database replicas for management points at primary sites
Set SQL Server AlwaysOn availability groups to manual failover
Disable site maintenance tasks at each site
Temporarily stop any antivirus software
Back up customized files
Plan for client piloting
Plan to use service windows
Review supported console extensions
Run the setup prerequisite checker (I recommend running the prerequisite check 1 week before the production upgrade)
Update sites
Offline Scenario – SCCM Server 2309 Upgrade
Use the service connection tool to download the update when your service connection point is offline. More details about the process are explained in the post SCCM Upgrade with an Offline Service Connection Point| ConfigMgr.
Resources
SCCM Log Files Updated List Client and Server
Checklist for 2309 – Configuration Manager | Microsoft Learn
October 2023 Patch Tuesday Updates
Author
Anoop is Microsoft's Most Valuable Professional Award winner from 2015 on the technologies! He is a Solution Architect on enterprise device management solutions with more than 20 years of experience (calculation done in 2021) in IT. He is a Blogger, Speaker, and Local User Group Community leader. His main focus is on Device Management technologies like Configuration Manager, Windows 365 Cloud PC, Intune, Azure Virtual Desktop, Windows 10, and Windows 11.