Let's check the Intune Device Compliance Trend Report in the Endpoint Manager portal. Device compliance trend reports are more likely to be used by admins and architects to identify long-term device compliance trends. The aggregated data is displayed over a period of time and is useful for making future investment decisions, driving process improvements, or prompting an investigation into any anomalies. The data provided by this report is a snapshot of the current tenant state (near real-time).
Device Compliance Trends Report – Intune Portal
Let's see the Device compliance trends report –
Device compliance trends Reporting URL – https://endpoint.microsoft.com/#blade/Microsoft_Intune_Enrollment/ReportingMenu/deviceCompliance
You can see device compliance over a 60 day trend. If no data found Click Refresh button, This will refresh the data to show the latest.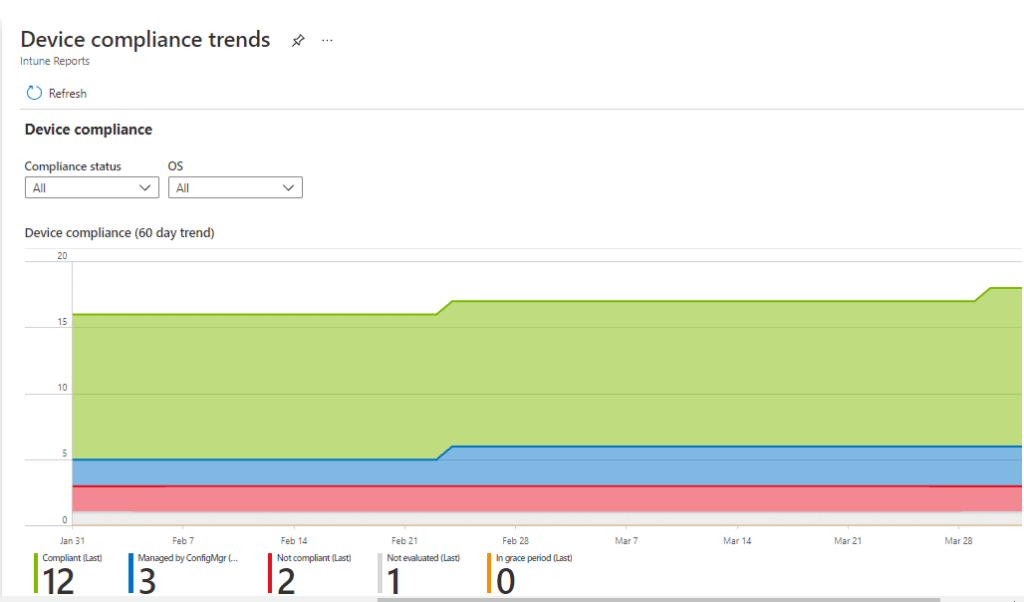 The "Trends" category displays a historical report for Device Compliance trends. You can also apply Filters to see specific trends.
Compliance status

Compliant
In grace period
Managed by ConfigMgr
Not compliant
Not evaluated
OS

Android (device administrator)
Android (fully managed/dedicated)
Android (work profile)
iOS
macOS
Windows
Windows Holographic
Windows Mobile
Other
Resources